salsa mexicana

Wednesday Sept 30, 2015
7:30 - 9:30 pm $28

We will be preparing salsa fresca,
a raw salsa with slightly roasted tomatoes and mashed together in a Mexican molcajete, a large mortar and pestle
crafted from volcanic rock.

The second salsa is a salsa verde, prepared with roasted tomatillos.

The third is salsa picante a la yucateca,
a very spicy pepper sauce.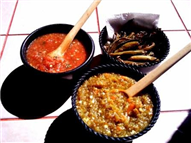 REGISTRATION FORM